Solar Panels Not On Roof New Jersey
Solar panels not on roof
When solar panels are not installed on the roof, they can be mounted in a ground-mounted array or on a pole. There are many benefits to installing solar panels outside the house, such as homes with tight spaces between buildings, pools, or landscaping.
Ground-mounted solar panels can be installed anywhere on your property that has good sunlight and open space. The panels come in a few sizes where they can be placed and the number of levels the racking motion is. The panels feed power to the PV inverter, either be situated behind the panels or in a remote location.
Ground mounted solar panels for home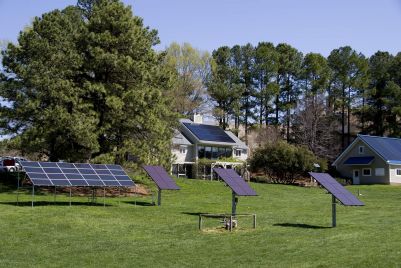 Solar panel systems that are ground-mounted and installed on your property will vary, depending on what land you have available and how much electricity you need. Since different equipment is used for each type of installation, it isn't easy to give accurate advice. However, there are three essential facts that you need to know about ground-mounted solar panels.
In many situations, ground mounted solar panels are the most cost-effective option.
Ground-mounted solar power systems can be much less expensive than off-grid solar arrays. If you are looking for an efficient way to begin reducing your home's carbon footprint, installing ground-mounted solar panels is a significant first step.
Not all ground-mounted solar panel systems are made equal.
There are many different types of ground-mounted solar panel systems. Some require that you build a custom mounting system since the panels will be set into the ground and there is no roof to support their weight. Other types have racks or brackets that are made specifically for the type of panels being used, which attach to pre-installed posts in the ground.
All homeowners may benefit from solar panel systems that are mounted on the ground.
Ground-mounted solar power systems are a viable option for anyone looking to reduce their carbon footprint. The best thing about ground-mounted solar power systems is that you don't have to deal with any unsightly wires. The power inverters and other equipment can be hidden away in the house, while your property gives you free energy from Mother Nature.
Types of ground mount solar installations
Standard ground-mounted solar panels
The most common type of ground-mounted solar panel is the standard ground mounting system. This system style is mounted at a fixed angle and can be adjusted to an angle facing the sun using a single axis tracker. The frame is made from steel and can withstand all types of weather.
Standard ground-mounted solar panels are installed on a metal or wood T-shaped rack. Such systems usually have two or three electric meters, which measure the energy generated by the array and any electricity transferred back to your house.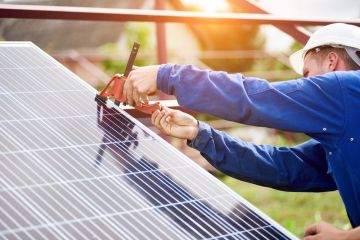 Pole mounted solar panels
Ground-mounted solar power systems mounted on poles are meant to save as much space as possible. When there isn't much space for several solar panels, consider a pole mount.
The solar panels are installed at the top edge of the pole and tilt downward at an angle that aligns with the sun's path during the day, maximizing energy output. This type of installation is usually for remote or off-grid applications but can also be used in other situations.
Ground-mounted configurations are generally more expensive to install.
How much do solar panel ground-mounted installations cost?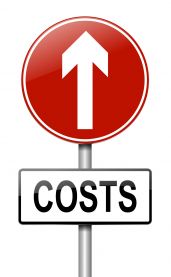 When it comes to the price per watt, ground-mounted solar panels and rooftop solar panels cost about the same.
Two factors that most significantly affect the solar panel ground-mounted installation cost are the size of the system and solar irradiation (insolation) at your location. The more area it covers, the higher the initial investment. And as you might guess, the more sun exposure your system receives, the lower the cost per watt will be.
For a typical installation, ground-mounted solar panels have a payback of about 12 years. The average life span of solar panels is 25 years. So this is a good return!
A large part of the cost comes from setting up the system, including charges for utility interconnection.
Do ground-mounted solar panels need planning permission?
Not all ground-mounted solar panel installations require planning permission. Those installed to a height of less than 4m or so should not need any approval from your local council, which is good news if you want to install panels yourself.
However, if your system reaches a height of more than 20ft, you will need to consult your local council for permission. This is the case even if no one else can see into or access your property. Your local council will want to make sure that your panels do not obstruct anyone's view of traffic signs or street lights.
Ground-mounted solar panels must meet all installation regulations, such as height restrictions and shading issues.
If you live in a conservation area or somewhere with special planning rules, it is best to get advice from your local council before installing any system.
Is it possible to do a DIY installation with a ground mount solar kit?
Ground-mounted solar panel systems can be a DIY job, even if you have minimal DIY experience.
Most suppliers offer a do-it-yourself installation option for ground-mounted solar panels. Some of them will even send out an engineer to help with the process at no extra cost. These experts will give you specific install instructions before they leave, and they will be available to help you via phone or email.
DIY installation does not reduce the price of your solar power system, although it will save you money through deals that some companies offer.
Ground Mount Solar Panel Kits
If you want to save money on your installation, choose a system that comes with a complete kit. A ground-mounted solar panel kit will come with all of the equipment needed for the job, including grounding components and cables.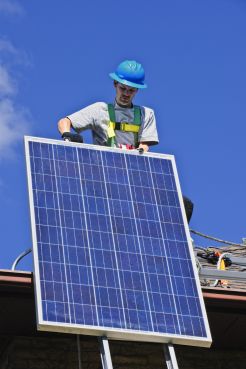 Installation size
The size of a ground-mounted system can be just as large as you want, and since the panels will not be on your roof, it is easier to design a panel layout that is convenient for the space. In general, they are about twice as big as a rooftop system but can range from 100 watts to over 1 megawatt in size.
Orientation
As with any solar panel installation, the orientation of the panels is critical to achieving maximum energy. Racking systems that mount on a south-facing slope or flat ground will be able to take advantage of the sun's movement and allow your system to produce more power.
Shading
The significant advantage of a ground-mounted solar panel system is that it can be set up to avoid shading issues. If you are worried about shading, or if your property has multiple utility lines running through it, then this could be the best choice for an energy-efficient home.
Fewer upgrades
You can add solar panels at any time to a ground-mounted system without having to pay for an entirely new installation. The racking system will be strong enough to hold several rows of panels and is likely extendable to accommodate more in the future.
If you would like to know if we can install solar and put thousands of dollars in your pocket for doing it, use the form below to submit your electric bill for a no cost, no obligation evaluation.