Solar Panel Mounts for Metal Roof | Solar panel mounting on metal roofs
Solar panel mounts for metal roof
Solar panel mounts for metal roofs are a type of solar panel that is designed to be mounted on the top surface of metal roofs.
This type of solar panel can generate power for a home or business and is an ideal solution due to the high efficiency that metal roofs provide.
In most cases, it can be a concern to have solar panels on a roof. In the past 10 years, roofing material manufacturers have been able to develop and commercialize metal shingle roofs and standing seam steel roofs that would give homeowners the freedom of installing solar panels in their homes without having to worry about the damage that could potentially come from them.
The old ways of installing a solar pv module involved attaching them directly to asphalt shingle or tile roofs; however, this caused serious drainage problems when water puddled underneath the mount and rotted through the plywood deck.
Asphalt shingles are a popular choice for solar panels, and the process is straightforward. Solar panels are also simple to install on tile roofs. A standing metal roof is the most compatible type of roof with solar panels.
Types of metal roofs
Metal roofs are a combination of metal panels and a protective covering, which is usually made out of some type of shingle or tile. There are various types of metal roofing materials, including standing seam metal roofs (steel), corrugated sheet metal roofs (aluminum), and tiled steel roofs.
Standing seam metal roofing provides the best support for solar panel mounts because it is easy to install, looks like other shingle minerals, and has an endless lifespan.
Corrugated metal roofs provides the most affordable option compared to standing seam or tiled steel options; however, they do not provide as much support for solar panels on their own unless you choose thicker gauge material that can handle the weight.
Tiled steel roofing does not corrode and will last longer than other metal roofing types, but it can be more expensive. It is also important to note that the installation process for tiled steel roofs is slightly more difficult than with other metal roof types.
Types of metal roof solar mounting systems
Metal roof solar PV mounting systems (also known as metal roof mount) may differ slightly from those designed for asphalt shingle roofs.

There are three ways to mount solar panels on a metal roof:
Flush Mounts
Flush mounting is the process of installing solar panels flush against the surface of a metal roof. This mounting method is mostly used for asphalt shingle roofs, as it leaves a very small footprint and does not penetrate the roofing material.
Tilted Roof Mounts
Tilted roof mounting is the most common mounting method for solar panels on metal roofs. In this installation, the solar panels are mounted onto a frame that is attached to the roof. The frame has the ability to tilt the solar panels towards the sun so that they can take in maximum energy output. This is a great option for both metal shingle roofs and standing seam roofing.
Rack Mounting
Rack mounting uses brackets or racks to secure solar panels onto roofs with different types of materials, including metal, tile, and even asphalt shingle roofs. This installation method works well with all types of surfaces and does not require that panels be flush-mounted on the substrate.
Tile roof solar mount
Installing solar panels on a tile roof solar can be a bit more challenging than installing them on a metal roof, but it can be done with the right mount and tools. There are a few different types of solar mounts that can be used for tile roofs, but the best one to use is a flush mount. A flush mount attaches the solar panel directly to the roof tiles, which makes it less visible from the ground and also helps to keep the solar panels cooler.
There are a few things that you will need to consider when installing solar panel mounts for tile roof:
Installing solar panels on a tile roof is not as easy as it sounds. There are a few things that you will need to consider when installing the mounts:
1) The material of your roof,
2) The slope of your roof and,
3) the type of solar panel that you are using.
If you are installing the solar panel mounts on a tile roof, then it would be best to use either an aluminum or steel frame. The reason for this is that both of these frame materials are light and will be able to withstand the weight of the solar panels.
It is also important that you use a frame that has been rated for rooftop installation. Many of these types of frames are made from galvanized steel and have been powder coated.
Tile roofs solar kit
If you are comfortable with installing solar panels on your tile roof, there are a few kits that you can use to make the process a bit easier. The tile roof mounting kit comes with all of the hardware that you will need to secure the solar panels onto the tile roof, including a tilt bracket, mounting rails, and even a sealant.
Metal roof solar photovoltaic installation
Solar panel metal roof mounting is easy. They are typically mounted to rails and then lag bolted through the roof. The solar mounting system can be found at any home improvement store, which makes it easy to install a system on your own.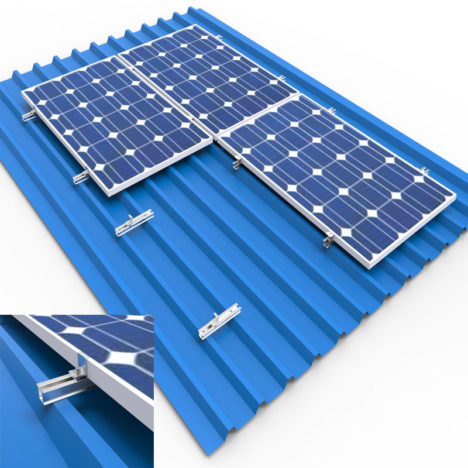 Before installing solar pv modules on your metal roof, make sure that you have a way to safely access the roof and that the frame is strong enough to support the solar array.
When working with metal roof solar in general, it is best to stick with flush-mounting systems so as not to damage any tiles or mineral coating on the sheet metal. This method will also require fewer railings than other installation methods because there isn't much exposure when looking at just one row of solar panels instead of multiple rows in a rack.
When planning where exactly to install solar panels, remember that they need to be placed in an area that will receive maximum sun exposure. Just like with other roofing materials, it is recommended to use a sun path calculator to figure out where is the best place for metal roof solar mounting.
Once you have determined the best location for your solar panel installation, it is time to start installing them onto your metal roof. These solar mounting PV systems can be found at home improvement stores and should come with instructions on how to properly install them.
Thin-film solar panels vs standard solar PV panels on metal roofs
Metal roofs are a great location for solar panels, but their installation must be carefully planned out. Metal roofs have been around for decades and have been designed to protect houses against the elements in modern construction. Although most solar metal roof allows standard solar panel mounting systems to be used, they can pose some unique challenges that need to be addressed when installing solar on them.
Thin-film solar panels are a newer technology that is being used more and more in solar Pv panel installations. They are cheaper to produce than standard PV panels, but they also have lower efficiency rates. For this reason, they are not always the best option for roof solar mounting. Standard PV panels usually have higher efficiency ratings and will generate more energy over the lifetime of the system.
However, there are some cases where thin-film solar panels may be a better option for a metal roof installation. If the roof is heavily shaded or has obstructions that would prevent standard PV panels from generating optimal energy, then thin-film solar panels may be a better choice.
FAQs
Which solar mounting system is best for your project?
There are a few different solar mounting systems that can be used for installing solar panels on a metal roof. The two most common systems are roof-mounting and a ground mounting system.
What makes the s-5-PV kit an ideal choice for mounting PV on metal roofs?
The s-5-PV kit is a flush-mounting system that makes it easy to install a solar panel on metal roofs. This installation method involves two pieces of aluminum that are attached to the frame of your solar panel and then can be bolted onto the roof with lag bolts. It is quick and simple and can work for any kind of metal roof, including tile and standing metal roofs.
Can you install solar panels on a standing seam metal roof?
Yes, you can install solar panels on a standing seam metal roof. However, you will need a solar panel mounting system that is specifically designed for metal roofs.
If you would like to know if we can install solar and put thousands of dollars in your pocket for doing it, use the form below to submit your electric bill for a no cost, no obligation evaluation.