Tuscan Tesla Solar Roof | Solar Roof Tesla
Tesla Solar Roofs
Tesla's new glass solar roofing tiles are called the "Solar Roof." Tesla has said that this is "a roof that looks better than a normal roof" and it is transparent, meaning that homeowners can have solar on their homes without sacrificing the appearance of their home.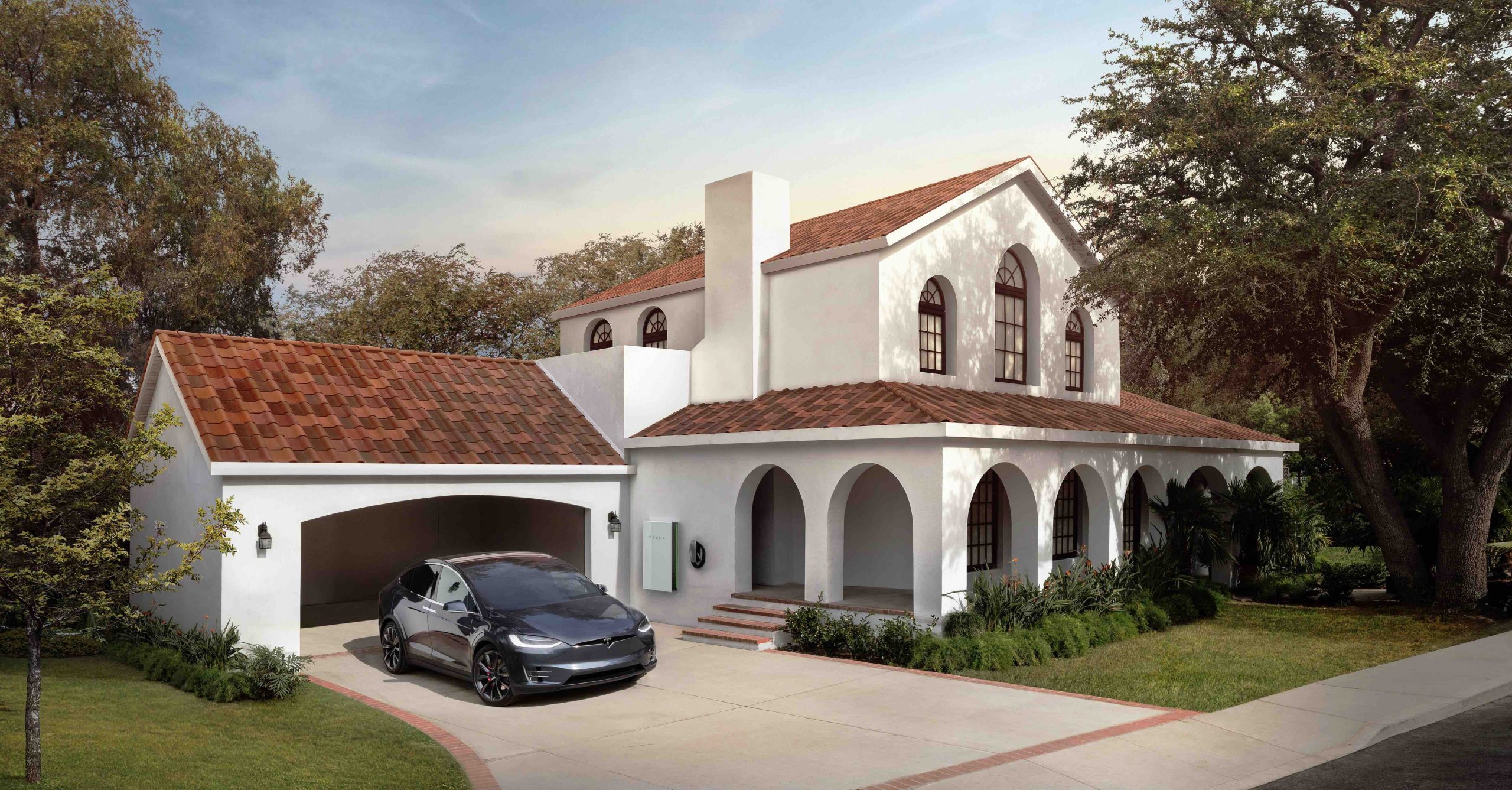 Tesla Solar Roof tile
Tesla has started taking orders for its new solar shingles, which are being called the Tesla Solar Roof. The product is unique in that it will allow homeowners to have a solar option without having unsightly panels on their rooftops.
Solar roof tiles can last twice as long as standard asphalt roofs, according to Tesla ( TSLA ). Each tile consists of three layers, the outermost layer is made up of glass. The middle layer is composed of solar cells that can produce electricity, which is then transferred to the interior protective layer. This allows homeowners to get a tiled roof that looks better than a normal tiled roof.
The 4 Roof Types Released By The Tesla Solar Program
These tiled roofs are made of the latest in materials and technology to make them as durable as possible. Tesla has said that they can last twice as long as a normal tiled roof because the tiled roofs consist of three layers.
The tiled roofs come in four different styles: Tuscan smooth finish glass tile, textured slate tile, French Slate glass tile, and Textured Glass Tile. Each style comes with metal clips for easy solar roof installations.
Tesla Tuscan solar roof tiles
The Tuscan slate solar roof tiles have been described as being one of Tesla's most popular solar roof options. The tiled glass panels are created from tempered glass. Elon Musk has said the Tuscan glass "looks better than a normal roof".
These tesla shingles are designed to match other tiled roofs, making them blend into the surrounding environment better. Elon Musk believes this will help people take advantage of solar energy without having an eyesore on their homes.
How much does the Tesla Solar Roof cost?
The installation of a solar roof Tesla will set you back anything from $35,000 to more than $70,000. The price varies considerably depending on your roof's simplicity and complexity, as well as the square footage of your roofing. The Tesla estimate calculator indicates that if you're putting in a solar system on a modest, little roof, the cost is comparable to that of a fresh asphalt roof installation with solar panels. However, as your roof gets larger and more complicated, this figure quickly increases.
How much does a Tesla solar roof cost compared to solar panels?
Solar roof Tesla is designed to be an aesthetically pleasing alternative to traditional rooftop solar panels while eliminating the need for electrical wiring running down the side of each house. The roofs are made up of glass tiles that contain solar panels, which means homeowners will not only get a new roof but also one that generates electricity.
The average cost of installing traditional solar panels on your home ranges from $15,000 to $30,000. For comparison, Tesla projects its solar roofs will cost between 10 and 15 percent more using the company's own estimates. Depending on how much energy you use in your household, this could take anywhere from five to 25 years before you break even. But many experts say the monthly cost over 30 years will be less than what you're paying now for electricity.
Pros and cons of Tesla solar panel roof
The Tesla solar panel roof is a recent innovation in solar energy. The design of the roof tiles makes them stand out from traditional solar arrays, and they are made with tempered glass, which is more durable than standard roof tiles. They are meant to look like normal roof tiles while providing solar energy. However, some homeowners may find that the solar roof has significant drawbacks.
However, many people feel that one drawback of tesla's solar roof is its high price tag and low efficiency when compared with standard rooftop solar array. In addition, tesla solar roof tiles do not generate power when there is a shade over them, which can be an issue if a homeowner wants to install the shingle on a roof that does not get enough sunlight. The cost of tesla's solar has been a serious deterrent for homeowners who may find standard solar panels a more affordable option.
Frequently asked questions about the Tesla Solar Roof
Here are the answers to some of the most common questions regarding the solar roof made by Tesla.
Is the red solar roof different from the Tuscan solar roof?
Both Tuscan tesla solar roof and red tesla solar roof are designed to look great on homes, but using different colors gives you a choice of which one will match the style of your home. Red tesla glass looks especially good on modern properties.
Is Tuscan solar roof better than slate solar roof?
Both Tuscan tesla solar roofs and solar roof slate are great options, but you should choose which one is right for you based on what you like. Tuscan tesla solar roofs have a textured look that resembles clay or concrete tiles, while slate tesla solar roof is more natural-looking with their grey surface.
Are solar panels patented?
Yes. Tesla solar panels and Tesla solar roof tiles are specifically manufactured to tesla's solar panel patent, meaning that they won't be the same as the products you could buy from other companies. The solar roof patent is the reason why we haven't seen other companies make Tesla roof tiles or solar roofs. Integrated solar panels are also patented.
Can you camouflage solar panels?
It depends on what tesla solar panel type you have. tesla solar tiles, tesla racking, and tesla mounting hardware do not come with camouflaged solar panel options. Tesla glass solar panels, Tesla series solar panels, and Tesla Powerwall can be purchased in a variety of shapes that can better blend into their surroundings or create interesting visual effects.
When do solar tiles start degrading and losing their efficiency?
Tesla solar tiles will lose a small percentage of efficiency each year, but tesla still expects that their solar roof will last much longer than the 20-year warranty they offer.
What's the latest news on the solar roof tile?
In the latest announcement, Tesla said that they would be placing a limit on the number of solar roof tile customers can purchase for their homes. They initially offered customers the option to buy as many solar roof tiles as they wanted but they claim that solar roof customers have been trying to resell their products through tesla's referral program.
If you would like to know if we can install solar and put thousands of dollars in your pocket for doing it, use the form below to submit your electric bill for a no cost, no obligation evaluation.